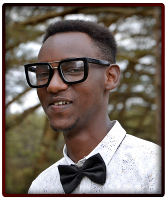 Rwema is an upcoming contemporary painter who lives and works in Kigali, Rwanda. As a native of Rwanda, his colorful paintings pay homage to Africa and the world at large. His distinctive personal style emanates joy, excitement and peace. In it, He expresses a vibrant and uplifting spirit.
Stunning portraits, magnificent animals, picturesque landscapes, african culture and heritage, are all ​ brought to life with contrasting and harmonious colors and bold compositions. These have captivated audiences from all over the globe.
Rwema discovered his talent and passion for art at the tender age of 8. As a child, he won many prizes for his art. He always believed in the motto "Art can Heal". ​ He studied art at Nyundo school of Arts and Music. His main areas of study were painting, drawing art, illustration, ceramics, technical drawing and graphic design. Afterwards, He joined the East African University Rwanda at Nyagatare, where he studied filmmaking and film production. ​ He is also the recipient of various Art Awards in Rwanda such as the "painted in ​ Rwanda ​ competition" Held by the Rwanda ​ Environment Management Authority (REMA).
Rwema's artwork has been shown in various exhibitions in Rwanda, including the ever popular "Made in Rwanda Exhibition". ​ He was chief illustrator for two popular children story books entitled DORE AKAZUBA and AKARIZA NINYAMANZA. These can be found in the libraries of all elementary schools in Rwanda.Rwema is fully committed to spreading his unique art to the entire globe​ . ​ Indeed, he has developed his own visual vocabulary and peculiar style. With utmost proficiency he invites us to view the world as a magical, fluid and invigorating panorama.